Taiwan Hardware Show wraps up with a Host of Shining Premium Products
[Taipei Press] The 8th "Taiwan Hardware Show" (THS2008) organized by Kaigo Co., Ltd. consummately wrapped up on October 25. For the first time, the show was held at Taipei World Trade Center Hall 1 where as many as 246 exhibitors with a total of approximately 420 booths joined in the three-day show, representing a significant growth of 35% compared with last years' 182 exhibitors. At the same time, the show also drew 13,778 buyers within and without the profession. Mr. Gerd Keim, the president of Kaigo Co., Ltd. expresses that, with the show, Taiwan's outstanding hardware manufacturers presented their versatile and innovative products and showed their strong competitiveness in R&D and made Taiwan's hardware industry stand out among their worldwide competitors.
At the opening ceremony, Mr. Chih-Peng Huang, the director of Bureau of Foreign Trade, MOEA, praised the achievement made by Taiwan's hardware industry. He indicated that "Taiwan has earned a reputation as the "Kingdom of Screws and Nuts" and the "Kingdom of Hand Tools" as the world's number one exporter of screws and nuts and because of the export value of hand tools in the past. Eventhough the industry has encountered a great deal of threat and challenge in recent years, it has still played a significant role in the international market with its strength of human resources and R&D competence. In order to assist the local industry, the Bureau of Foreign Trade has put forth NT$2 billion for local manufacturers to use in export or import financing. The eligible manufacturers will make good use of it."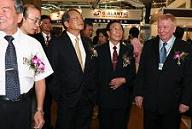 The THS2008 exhibited the categories covering hand tools, power tools, pneumatic tools, machinery tools, auto repair tools, garden tools, safety accessories, tool combinations, carts & ladders, building materials, interior decoration materials, screw fasteners, sanitaryware and accessories, etc.. At the same time, the "Home and Lifestyle Fair" (HLS) was also launched, during which the exhibition included a wide range of products including home life ornaments, bathroom accessories, kitchenware, outdoor and leisure supplies, household appliances, self-assembly furniture and DIY profiles and fittings and more.
During the show numerous outstanding manufacturers, including MAKITA, Rexon, Stahlwille, Lee Yeong, Yih Cheng, My Hand, King Tony, G-Alantic, Hans Tools, Double Dynasty, Honiton, J & K, Lucky-Brand, Jaco, Infar, Kuang Yuang, A-Kraft, Dess, Re-Dai, Stand Tools, Force Shyang Yuan, and Mobiletron Electronics, etc., all showcased the premium products they have developed, which drew a lot of attention from international buyers. The benign trading atmosphere of the Show brought about plenty of business opportunities for exhibitors, who were pleased with the positive effect of the exhibition. Due to the success of the show, many exhibitors have signed up well in advance to participate in the next exhibition, in an attempt to continue to take a larger share in world hardware related markets.
In order to generate variety for the Taiwan Hardware Show, the "Mechanical and Systems Research Laboratories, Industrial Technology Research Institute" and "Chang Hua WATER WARE Association" worked hand in hand to build an exclusive "Water ware Pavilion", so as to exhibit new innovative products, such as self-cleaning and hydraulic induction faucets, recycling of waste water, and further promote the concept of water and electricity efficiency and environmental protection. Furthermore, with optimism about the outlook of the international gardening market, a dedicated "Garden Pavilion" was also designed in the exhibition, in hopes of meeting international buyers' demands for diversified purchases.
Given the fact that DIY has grown in popularity in our country, the sponsor especially invited Mr. Chi-Jung Chou of MAKITA (Taiwan) Ltd. to teach visitors the "basic concept of using power tools", and so using power tools to do DIY will no longer be difficult. In addition, Mr. Fang-Zhi Yeh of US Workshop also gave seminars on how to weld with aluminum steel, which many visitors used DIY skills and their originality to turn the aluminum steel into different shapes, such as cute cat and dog shapes. The visitors were very proud of the works they created on their own.
In order to enhance the depth and practicability of the exhibition, the organizer also planned a number of elaborate seminars and invited Mr. Shun-Hong Chen and Mr. Chi-Yuan Yao of Electronics Testing Center, Taiwan to give a lecture about the "Safety and Testing Methods for Power Tools", so that people could become aware of the information relating to power tool safety testing and EMC electromagnetic compatibility accreditation. Mr. Chin-Chuan Huang, the deputy director of the Metal Process R&D Department of Metal Industries Research & Development Center, was also invited to elaborate on the "An overview and development of high value-added metal products", so the industry could re-create its development niche.
Due to environmental protection, the suppliers from casting and surface treatment industry have suffered from the problems of manpower and costs, which seriously affects local production. Thus, the organizer especially invited Dr. Wei-Long Chen and Dr. Ju-Liang Ho from the Industrial Technology Research Institute of Taiwan, ROC to give lectures on "Using CAE to design bath product" and "PVD technology for bathroom equipment and hardware". It is hoped that the lectures will help those suppliers learn about related technology in order to settle their problems, facilitate overall development of the water ware industry, and expand the market.
With eight years of consistently strong efforts, Taiwan Hardware Show has established a brilliant reputation throughout the world in the hardware and hand tool industry. It is the best platform both for exhibitors to present outstanding products, and for international buyers to source quality products. To meet local and foreign buyers' sourcing schedule, the exhibition period of the next Taiwan Hardware Show (THS2009) will be extended for 1 day, which is slated from October 22 to 25, 2009 (Thursday-Sunday) for four days in a row and on a much larger scale. Those who are interested in promoting local and foreign markets, please contact Kaigo Co., Ltd. at +886 2 2595-4212 ext. 728, Ms. Zoe Chan, or visit www.hardwareshow.com.tw for more details.